If you are dealing with blogs or if you are a blogger yourself you must have heard about guest blogging. And if you were pushing the idea of guest blogging behind for, I don't know, maybe some unknown reason or ignorance, we are here to explain why you should not. Also in this blog, you will get to know the benefits of this crucial process of quality link building. But first, let's discuss what guest blogging is. 
What is Guest Blogging?
Guest blogging is one of the different techniques of content marketing and SEO link building that includes writing and posting a blog on any external website. But that website has to be from a similar niche and with high domain authority. 
The idea is to gain high-quality backlinks from the external website which has already high domain authority. With guest blogging your brand can get huge exposure among the audience of your target. Moreover, you can target new visitors from the website you are going to collaborate with. 
What are the Benefits of Guest Blogging on Your Website?
Guest blogging has a number of benefits for your business. You share your knowledge on other external websites, you educate and provide value to the visitors visiting there. By doing this, you can
First, you get high-quality backlinks to your website. Guest blogging on high DA websites ensures that your own website will get quality backlinks from the external website. 

Second, you can get quality and relevant traffic to your website. The visitors of the external website will read your blog on that website. This way you'll get quality and relevant traffic to your website. 

Third, you prove your authoritativeness in your industry. By writing quality and informative content you provide value to the readers. Hence you prove to be an authority figure in your field.

Then you can improve your website's domain authority which will help you in getting excellent SEO results. Getting high-quality backlinks

lets you improve your website's domain authority as well. For more insights seek expert help from the top

SEO company in India

.

Next, you gain huge brand exposure to a broad and new audience. Your brand gets exposure among the broad audience that the external website already has. Your website gets a new audience base. 

Again you can deliver fresh content and new perspectives to the readers. By sharing your knowledge and expertise as you write fresh informative content, you provide a newer perspective and add value to the readers. 

Then you can level up your website's rank on the Google search results for the target keywords. As your website gets traffic through the backlinks from the external website, it levels up the website's Google rank and brings successful SEO outcomes.

 

Also, you can get a promotional boost as the readers share your blog with their network. If your readers like your blog post they will definitely share it with their personal network. This way you get a promotional boost. 

Moreover, you build relationships with your peers or other thought leaders in your domain. With guest posting, you can build relationships with the editors of the high DA website. Also, you can exchange your thoughts with other thought leaders in your industry. 

And finally, you can avail of all these benefits without a lot of added effort and time by your team. Yes! You just need to create valuable content for guest posting! And by doing so you can get all these above-mentioned benefits with zero or minimum effort and time invested by your team. 
How to do Guest Blogging?
Now that you have known the benefits of this quality link-building process for your business you must be curious about starting the same! It is an easy way to get a lot of benefits if you are meticulous, have patience, and superb writing skills. 
Guest blogging can happen in two ways – by exchanging the link and by paying. Link exchange has a mutually beneficial aspect for both parties dealing with the blog. The guest blogger provides informative and high-quality content to the website. On the flip side, the website that allows guest blogging provides high-quality traffic to the blogger's website. Both the parties exchange links that help both of them to boost their website's traffic and rank on the search engines. 
To find the high-quality websites for guest blogging just type the niche you want to write on and add "guest posts" or "write for us" after it. For example, if you want to write a guest blog on digital marketing, type "digital marketing guest post" or "digital marketing write for us" on Google to find out the websites that allow guest blogging. 
Guest blogging through paid way means you have to pay to get the benefits of posting on high DA websites and getting backlinks from them. So for this, like the link exchange process, you have to approach the editors of the third-party website where you want to publish your blog. Once they are ready to publish your blog, you need to write informative content and include your target keywords and links as per their guidelines. Then as the blog is ready, you need to complete the payment to proceed with the publishing process. 
Since these external websites have high domain authority, there are chances that your keywords will get a higher rank on Google search results. As the leading SEO company in India, we have done a lot of guest posting activities and gained incredible SEO success for our clients. To illustrate here's the case study of one of our clients, Arohi Eye Hospital. We have done paid guest blogging for this client and as a result, we have acquired excellent SEO success for them. Refer to the attached image for more clarity.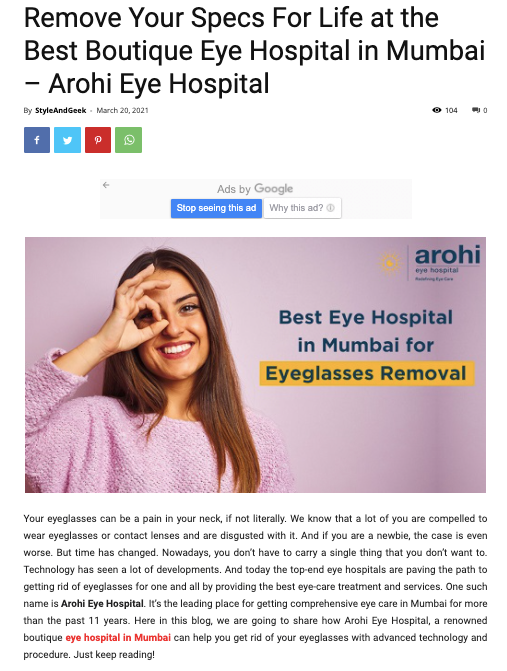 Final Thoughts
If you are looking to get innumerable referral traffic, writing for external websites with higher domain authority is surely the best way. But before you proceed, keep in mind the following things:
Add more content to your blog. The ideal length for a guest blog is 1000-2000. Try to write a blog of 1000+ words, but don't include irrelevant facts just for the sake of making it longer. Write informative and fresh content for effective guest blogging.

The links you include in your blog must be relevant to the blog. That means you should not include vague links just for getting traffic to your website. Keep everything relevant and to the point. 

Write the heading in around 8 words and keep it between 40-60 characters for maximum readability and results. Be very specific about the topic while writing the heading and make it as compelling as you can. 

Always try to target only high-quality websites for getting maximum results from guest blogging. 
Indeed, done the right way and with proper strategy, guest blogging is a powerful way to take your SEO strategies to the next level. So follow the ideas we have shared in this blog and start planning your way forward to guest blogging. And for more insights, Get in Touch with us!