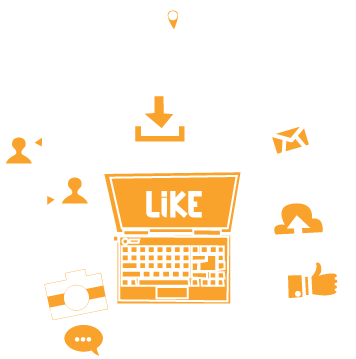 social media optimization
Social Media Marketing Agency
What is social media marketing
Social Media Marketing is the art and science of building an influential personality for a brand on social networking platforms on the internet by posting relevant and brilliant content and communicating with audiences on behalf of the brand. The reason why SMM is art is that ideas for the same are derived by allowing the mind to get creative and explorative. Various minds in a social media marketing agency can come up with hundreds of ideas and implement them in even more ways. One thought leads to another, making this art so diverse and limitless. Also, marketing on these networks can also be called a science. The reason being that it's an organized body of knowledge. Various concepts, rules, etc. have been formed as a result of research and trial and error. Social behavior on these platforms is studied resulting in data and statistics that help us understand these crowds more accurately. Also, with this data information is created to know more about what these platforms are and what their purpose is. Being such a powerful tool to communicate, it has gained huge importance for both individuals and brands. Let's get into the details of how these networks and marketing for the same are important…
Why is social media marketing important
Humans are social animals. Communication is and has been a necessity for us. Communication has existed in three forms, verbal, non-verbal and oral. A business needs to communicate its vision, its products, and its offerings to the general public not only for sales to happen, but also to invite people to work for them. If there is no communication, the business crumbles. Fast forward to 2019, communication in these three forms has evolved drastically, with the development of technology and the heaps of knowledge and information gained by humans over decades. Today, businesses adopt various media of communication which incorporate verbal, non-verbal and oral communication such as text, audio, video, and images. Social media sites are built in such a way that people who sign up for such sites can get creative with media and post it for other users to see and comment about. Users get to express themselves on these platforms to a large audience of other users and get to communicate with them, either related to a particular expression or otherwise. As a result, due to the development and easy availability of technology, the majority of the world is on these platforms. People are more active on these platforms than they are in real life. Therefore, brands need to build their personality and let audiences know what the brand is all about. This will not only create brand awareness but will make it easier for the brand to provide value to their audiences in exchange for currency or any form of compensation. Let's investigate the details of how social media optimization can affect our marketing and sales…
How social media marketing affects your marketing and sales
Marketing is the study and activity of building healthy and strong relationships with potential and current customers of the brand. Putting these relationships in use to generate revenue is what sales are all about. Sales are usually after marketing and it is better this way to ensure customer loyalty, satisfaction, and better brand recognition and image. As discussed before social media is a very powerful platform for brands to communicate with relevant audiences. Marketing needs media of communication, therefore marketing efforts can be amplified on these networking sites. Marketing campaigns to attract the attention of required audiences can be grabbed and connections can be established with these audiences. These connections will eventually turn into relationships. These connections can further be strengthened and polished by stressing on better marketing and communication. Ultimately these relationships can then be used to sell products and prove that the brand can provide value and is worth every penny spent. Therefore, a social media agency carries out thorough research when it comes to marketing on these platforms. Data is formed from this research and this data is then kept in mind while formulating strategies for social media optimization. Let's get into the details of this whole process…
Diving deep into the process
The first stage of this process is Research. Efforts are made by an online marketing agency into carrying out research to answer various questions such as what is the brand about, which niche it belongs to, what kind of audiences does it need, etc. Data found in this research is sorted and decisions are made. One of the most important decisions made with this data is the kind of platform to sign up to. Various such networks have different purposes. Some are made for formal or business relations, some are for informal relations. Therefore, the platform that matches the brand's personality, industry and niched must be considered. Once the brand has chosen the right platform and has signed up for it, it's time to generate content. Content is key for the brand to express itself and communicate. Hence content is created according to the personality of the audience, the niche targeted and the rules and regulations of the network. The brand is now established, audiences have been attracted and now communication can be done with them even more closely, building a stronger relationship. To help the brand survive online and keep it everlasting, this process must never end and must be continuous. As a result, constant reporting is done to learn about any changes in the behavior of audiences and how they are perceiving the brand and its content. The points are kept in mind and necessary changes are made.
Why you need professionals for this service
Previously we talked about how social media marketing is both an art and science, where concepts and information are used in various creative ways to market a brand on a platform. In-depth knowledge about these concepts and knowledge must be present to carry out the activities. A digital marketing company, be it in India or the world, hires such professionals who are well equipped with such knowledge. Also, these professionals have an ocean of creativity from where diverse ideas emerge. Just like the ones at Digitactix. The team at Digitactix aims to focus their minds on the whole process of social media marketing so that no detail or intricacy is neglected. Our team recognizes your brand as their own, adopts the brand's personality, cultivates a loyal and happy audience with good content creation and constant communication and makes sure your brand gets the love, support and influential power it deserves, ultimately paving the way for booming sales and great brand reputation. Contact us to talk more about your requirements for your brand's social media optimization.
Digitactix is a digital marketing agency focused on bringing growth and revenue to its client. We provide essential services like Social Media Marketing, SEO, Pay Per Click, Web Design and Development, Content Writing and many more while keeping our motto in mind: When your client makes business, you make business.
Copyright © Digitactix 2020