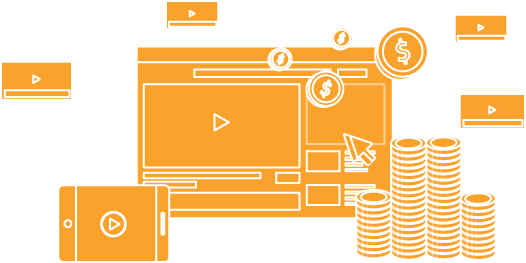 pay per click
Best PPC Company in India
What is Advertising:
Advertising is a method of directly persuading potential customers or clients to buy products with the help of messages, audio and visuals. Advertising is openly paid for. Organizations pay directly for one or various channels to communicate their products to the people. It is a communication method that is direct. Advertisers target the audiences according to the product and show them advertisements. Though advertising has existed for decades, it is important both for digital and traditional marketing. This is because it is constantly evolving. New platforms on the internet are using advertisements as their revenue stream. Also, in today's times, advertising is done using all types of media, be it audio, video, graphics, text or a combination of all these. Radio channels, social media, television, video streaming sites, etc. are used to air advertisements. Advertising is done by every organization on this planet, be it co-operative society, non-profit organizations, political parties or businesses. It is used by organizations as well as individuals such as artists, teachers, etc. to communicate their branding and products directly to their potential or existing customers.
Types of Advertising:
There are various types of advertising that we provide services for:
Display Advertising:
This type of promotion is putting out ads on the internet that involve text, graphics, and interactive HTML. These ads are as descriptive as possible. Graphic designers and content writers can pour in all their creativity and create display ads that communicate efficiently with the audiences. "Website visitors who are retargeted with display ads are 70% more likely to convert on your website."(source: Digital Information World).
Social Media:
Social Media is huge. In 2018, around 2.65 billion people were active social media users all across the planet. This number is expected to shoot up to almost 3.1 billion in 2021. Advertising on these platforms is important and provides a great return on ad spend (ROAS). There are various types of social networks, each having a different type of crowd and purpose.
Pay Per Click:
A Pay-Per-Click ad is where you pay only for the clicks you receive on the ad. So if 100 people see your ad and 10 people pay for it, you pay only for the 10 people who clicked on it. PPC ads have a high chance of conversion and therefore provide a very good return on ad spend.
Pay Per View:

Pay-Per-View advertising is where ads are aired to be viewed on games, free software, etc. Various digital marketing agencies put ads in between movies, games and free software. The user pays to use the software or play the game if they want to stop seeing the ads( which they usually don't).

Remarketing:

Remarketing is where digital marketing companies use technology to attract and convert potential customers who came to the website but did not purchase anything. When the user leaves the site, subtle ads are shown to them wherever they go to bring them back and convert them into a customer or client.

Affiliate marketing:

In affiliate marketing, the advertisers partner with other users to promote their brands and increase sales. In return, the user receives a commission for each sale he provides. Users who have a large following online, such as bloggers, social media personalities, etc. are approached for this type of promotion.

Why is advertising important:

Advertising is the best form of direct promotion. It provides results by working aggressively. Therefore when launching new products, advertisements are very helpful. Businesses make an average of $2 in revenue for every $1 they spend on Google AdWords services(source:wordstream.com). Advertising also helps to educate your customers. You can teach your customers about using your products or any upgrades made in your products and services that they should learn. Also, you can educate your audience about various problems, be it social, environmental, or mental. You can bring a positive change in people by spreading awareness about these problems. This will, in turn, put your brand in a good light which will increase brand value and in turn, share price. In the same way, you can use the ad channels to create brand awareness. You can attract a loyal audience for your brand with the help of advertisements.

How does advertising affect marketing and sales?

Advertising can have both immediate and long term effects on your company's sales, depending on what your goals are. In the short run, you can achieve higher sales volume with them quickly. If oriented in the long run, promotions can lead to higher but stable profits and better brand image. Businesses can get specific with their promotions online. Companies can target their clients by location, desired benefits, income, age, and demographics. And by using certain commercials, businesses can easily create ads that will create an appeal to these specific characteristics of their target market. Like for example if a company is all about products for weight loss, they can make necessary advertising acts that are intended for overweight clients.

Why do you need professionals for this service?

The people who work in ad agencies are professionals, who are skilled and experienced in their work. We often give the clients such an explanation about solving their sales problems with our ad campaigns and they have never realized that this could be done. It's because we have an external perspective, and because we're professionals. You have a specialization in your specific activity, and we have a specialization in advertising. If you need a coordinated campaign that is extensive and strives to communicate the message on various media such as audio, video, etc. you need us. Ad agencies are great for planning, coordinating, and executing complicated marketing communications programs and helping you get the maximum ROAS. At Digitactix the talents of expert writers, designers, art directors, creative directors, web developers, business and marketing strategists, media planners, project managers, and account executives—not to mention photographers, videographers, etc. are put to work to bring out a successful ad campaign. All of these people have professional and technical expertise that will contribute to the development of the advertising campaign. Contact us today to talk more about your requirements and get phenomenal returns for your ad spend.
Digitactix is a digital marketing agency focused on bringing growth and revenue to its client. We provide essential services like Social Media Marketing, SEO, Pay Per Click, Web Design and Development, Content Writing and many more while keeping our motto in mind: When your client makes business, you make business.
Copyright © Digitactix 2020